Christmas In Heaven
I see the countless Christmas trees
around the world below
with tiny lights like heaven's stars
reflecting on the snow.

The sight is so spectacular,
please wipe away that tear
for I am spending Christmas
with Jesus Christ this year.

I hear the many Christmas songs
that people hold so dear
but the sounds of music can't compare
with the Christmas choir up here.

I have no words to tell you
of the joy their voices bring
for it is beyond description
to hear the angels sing.

I know how much you miss me,
I see the pain inside your heart
for I am spending Christmas
with Jesus Christ this year..

I can't tell you of the splendor
or the peace here in this place
Can you just imagine Christmas
with our Savior face to face?

I'll ask him to lift your spirit
as I tell him of your love
so then pray for one another
as you lift your eyes above.

Please let your hearts be joyful
and let your spirit sing
for I am spending Christmas in heaven
and I'm walking with the King.



Wanda Bencke
"copyright 1998"

December,2 2001

I've had my first Christmas in Heaven
A glorious wondrous day!
I stood with the saints of the ages
Who found Christ the Truth and the Way.
I sang with the heavenly choir,
Just think, I longed so to sing.
And, oh, what celestial music
We brought to our Savior and King.
We sang the glad songs of redemption.
How Jesus to Bethlehem came.
And how they had called His name Jesus
That all might be saved through His name.
We sang once again with the angels
The song that they sang that blest morn
When shepherds first heard the glad story
That Jesus the Savior was born.
Oh, loved one, I wish you had been here!
No Christmas on earth could compare
With all of the rapture and glory
We witnessed in Heaven so fair.
You know how I always loved Christmas.
It seemed such a wonderful day
With all of my loved ones around me,
The children so happy and gay.
Yes, now I can see why I loved it
And, oh, what a joy it will be
When you and my loved ones are with me
To share in the glories I see.
So dear ones on earth here's my greeting.
Look up till the day dawn appears
And, oh, what a Christmas awaits us,
Beyond all our partings and tears.
~Albert Simpson Reitz
~Christmas In Heaven~
(Author unknown)
Were wondering what Christmas in Heaven is like
As we grieve alone and pray,
Longing for one who has gone before
To spend Christmas in Heaven today.
And so in our dreams we wander far
From the scenes and sounds of earth
`Til we catch the strains of the Heavenly choir
As they sing of the Christ Childs birth.
The Angels we envision there
As they join in the festal gay
And there amid the throng is our Loved One
Spending Christmas in Heaven today.
There's joy in the faith that teaches
When our lifes work is done
Of a place in Heaven awaiting
And the crown we worked for is won.
In our grief may we learn well the lesson
So to work and suffer and pray
As to merit the joys of our loved one
And to spend Christmas together some day.
Look at the Candy Cane
What do you see?
Stripes that are red
Like the blood shed for me
White is for my Savior
Who's sinless and pure!
"J" is for Jesus My Lord, that's for sure!
Turn it around
And a staff you will see
Jesus my shepherd
Was born for Me!
It has been six long months
since I last was able to hug you
and give you that last kiss goodbye.
I would not have ever let you go had
I known those few last moments were
the last to ever be, between the two of us,
mother and child, my precious son.
Reid, I love you my child, I love you,
have always loved you, cherished your
faith and trust in me, as well as those
wonderful qualities which made YOU, Reid.
Why my God chose you that morning,
I will never understand but, I do know,
He has one of the most glorious souls to ever be.
I miss that smile, those funny jokes,
the tricks, like that one that you
played on me-climbing up the chimney
and acting as if you couldnt get down
without help (me not even thinking you
were 63" tall/long arms and only
concerned with your safety!).

As Kimbre put it, things have
changed and not for the best.
Reid, you had touched so many
people on this earth,in such a
positive way....they miss you and it shows.

I love you my son.
Christmas is upon us and
I have that large gaping hole
in my heart, yearning to tell you
I love you and missing taking you
shopping. We had such a wonderful
time last year shopping for 2 solid days.
More cherished moments that
I will always remember.

I love you my child, and God,
please I pray to thee, watch over
my Reid and may he be playing in
the heavens above as he is
watching over us as well,
along side with you, dear God. Amen

I love you my child.
I look forward to that day
of which I will see you
and hold you again.
Love always, Mom
December 2, 2001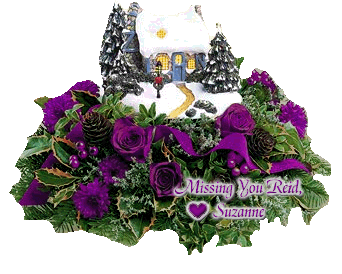 December 25, 2001
I love you my sweet child and miss you so much.
I awoke to some wonderful memories that the 2 of us have.
Riding to work/school together, going to lunch together,
and you hated it if anyone else went with us.
You wanted only the 2 of us.
Reid, I miss you and it has really been hard
going through Christmas without you.
It is so hard just getting through each and everyday without you.
I love you my precious Reid.
God, please watch over us all,
take care of our Reid and watch over the rest of us here on earth.
I pray that you give an extra hand to
Suz to help her and her family and Darlene.
too, to get through this trying time in our lives.
I love you Suz and you have been there for me.
In Your Name I pray Dear God, Amen.
Reid, enjoy your new life that God has granted you and one day,
the rest of us will be there with you living in paradise.
Loving you always, Mom
December 30, 2001
I love and miss you!!!!
Dawn
December 31, 2001

Reid man i miss you so much in away i
wish i never moved i wish i could
have spent more time with you.
It brakes my heart when i go to your
house and see your mom and sister
but you are no where around. i wish i could
have seen you one more time i
talk you like the day before
i just wish i was there but i love you man

love james cagle